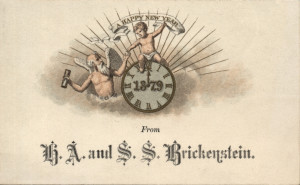 In genteel Victorian-era society, making visits or "calls" was the fashionable thing to do on New Year's Day.
Gentlemen would don their finest attire and make the rounds, visiting all of the ladies of their acquaintance.
Ladies were discouraged from sending invitations for them to do so, as that would seem "desperate." Instead, the local papers would often print lists of homes that intended to receive callers that day.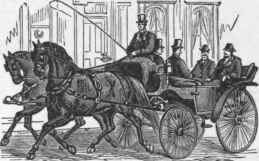 Upon arriving at a home (preferably in a carriage), the gentleman would be invited to remove his hat and overcoat. His gloves were often left on his hands, as the visits, to be considered polite, must be kept fairly brief. – not exceeding then or fifteen minutes.
The gentleman would then send his calling card with a servant to the host, announcing his arrival, and would be ushered into the reception room.
Baskets or receiving trays would hold the cards of each day's callers. This beautiful example is in the Bishop's Palace in Galveston.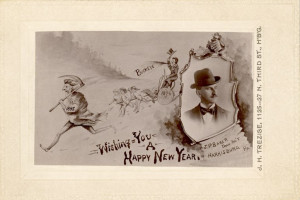 Ladies could receive guests at their own home, or come together in small groups to receive callers together. Young ladies visiting for the holidays partook in the visits of their hostesses' homes.
They would have spent the previous day making the parlor as inviting as possible with a warm fire, and small table with refreshments such as fruit, cakes, tea and coffee. Alcohol was never served.
Common visiting hours were from 10 a.m. until 9 p.m. which, although it was enjoyed, must have been quite exhausting. Because of the constant "change of faces" due to the coming-and going of guests, they were to receive each as politely and pleasantly as the first. Thankfully, callers knew to avoid lunch and dinner hours.
Calling cards were kept by the hostesses, and often reviewed later. In addition to reminding the hostess of the caller's name, much could be discerned from the quality and style of the card.
The two or three days succeeding New Year's were the ladies' days for calling, "upon which occasion they pass the compliments of the season, comment of the festivities of the holiday, and the number of calls made."
Although the ladies' visits were considered to be less formal, they would also include refreshments, finery, and by today's standards seem quite formal.
Whatever you are doing this New Year's Day, I hope 2016 brings you laughter, adventure and fun glimpses into our fascinating history!